DATE: Dec 16, 2009
PLACE: Jazz Cafe
PRICE: £42.50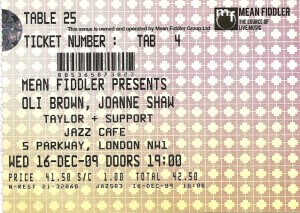 Oli Brown: Open road, New groove, Played by the devil, Black betty, Stone cold (Roxanne).
Joanne Shaw Taylor: Going home, Time has come, Blackest day, Watch em burn, Bones.
Virgil & The Accelerators: No turning back, What am I to do, Couldn't stand the weather, If you have to know.