DATE: June 26, 2008
PLACE: Wembley Arena
PRICE: £37.50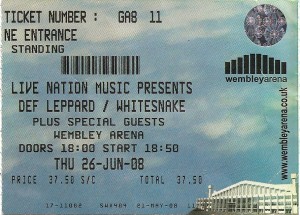 Def Leppard: Rocket, C'mon c'mon, Animal, Photograph, Bringin' on the heartbreak, Two steps behind, Hysteria, Nine lives, Rock on, Make love like a man, Armageddon it, Bad actress, Rock of ages, Pour some sugar on me, Let's get rocked.
Whitesnake: Best years, Fool for your loving, Can you hear the wind blow, Love ain't no stranger, Lay down your love, All I want all I need, The deeper the love, Give me all your love, Ain't no love in the heart of the city, Snake dance, Is this love?, Here I go again, In the still of the night.
Black Stone Cherry: Rain wizard, Lonely train, Hell and high water, Maybe someday, Blind man, Voodoo child.